Having fun at the beach is not just an activity for freely mobile people. While this might be what it seems, people with disabilities can always have fun at the beach just like people with no disability. While people with no disabilities do not need any equipment to have fun at the beach, people that make use of wheelchairs cannot have fun at the beach with just any wheelchair. They need to make use of beach wheelchairs to move around the beach.
It is one thing for people that need wheelchairs to be mobile to realize that they do need beach wheelchairs to move around on the beach and another to know the type of beach wheelchairs that are most ideal for them.
Since there is a limited number of people that are aware of the existence of beach wheelchairs, it is even more difficult for people that know about beach wheelchairs to know the right beach wheelchair to purchase. If you are looking to buy a beach wheelchair, you are on the right page with these top selections. We have put together a list of some of the best beach wheelchairs available. Read on to find out what these beach wheelchairs are.
GRIT Freedom Chair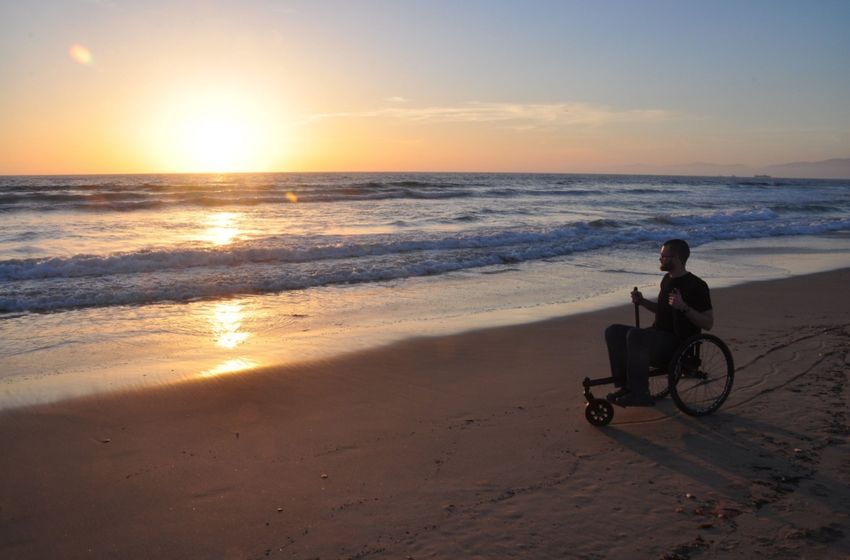 The GRIT freedom chair can be purchased for $2995 and is self-propelled. Although this wheelchair can move by itself, it is even easier to push than other regular wheelchairs. The GRIT Freedom wheelchair functions like a motorbike and makes use of different gears. The implication of this is you can move at a pace that is faster than that of a regular person walking on the beach. Although this in itself is amazing, there is more that this beach wheelchair can do. With the GRIT Freedom beach wheelchair, you can move comfortably through dirt, sand, and grass. You can also climb over a hill.
This beach wheelchair is an ideal beach wheelchair for people that are adventurous and will like to do more than just move around very gently when at the beach. If you have plans of visiting the beach soon and need a wheelchair but are not sure of what type of wheelchair to get, you can make use of this beach wheelchair for about 30 days, if you do not derive satisfaction from its use, you can return it and you will be given a refund.
De-Bug Beach Wheelchair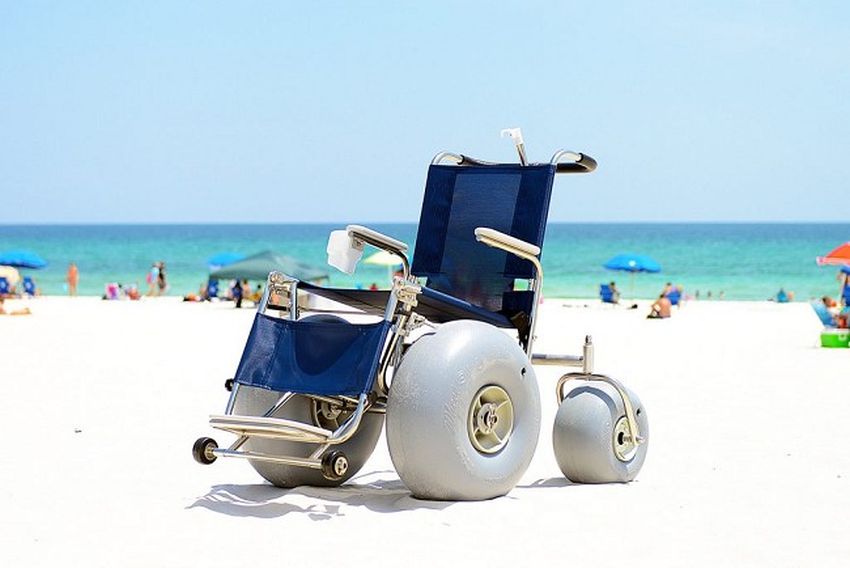 Made from balloon wheels which enable it to move comfortably in snow, grass, uneven terrains, beach, and gravel, the De-Bug beach wheelchair is a great wheelchair for people that really enjoy spending so much time outdoors. This wheelchair is made from stainless steel and is very sturdy.
It has the ability to comfortably move people that weigh up to 350 pounds. Furthermore, its rear suspension makes it possible for all its wheels to be in contact with the ground at all time. This way, whatever load its carrying is evenly distributed.
Just like other beach wheelchairs, the De-Bug beach wheelchair can be returned after thirty days of use if users do not obtain satisfaction from its use.
Sander Rider Custom Beach Wheelchair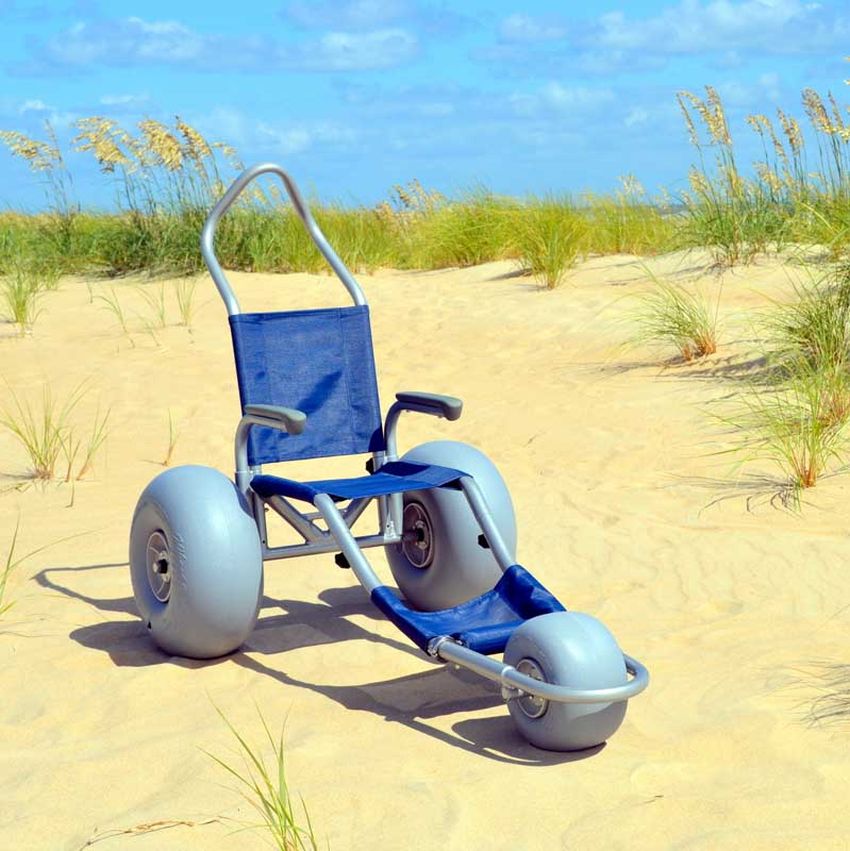 Featured by the Sander Rider Custom beach wheelchair are wheeleez balloon tires, a front pull point that can best be described as convenient, an ergonomic push handle, parking brakes, adjustable arms rest, rolling travel bags, fishing rod holders, seat belts, etc. Furthermore, this beach wheelchair provides a good level of comfort and stability for anyone seated in it. It can be pushed easily and also transported very conveniently in the trunk of a small car.
Sand Rider was designed in a way that it can be used by riders of different sizes very conveniently. It comes with various alternative which makes it possible for various riders to adjust it until they are comfortable.
This wheelchair is not self-propelled and can be has a price that ranges between $2380 and $3215.
Hippocampe Beach Wheelchair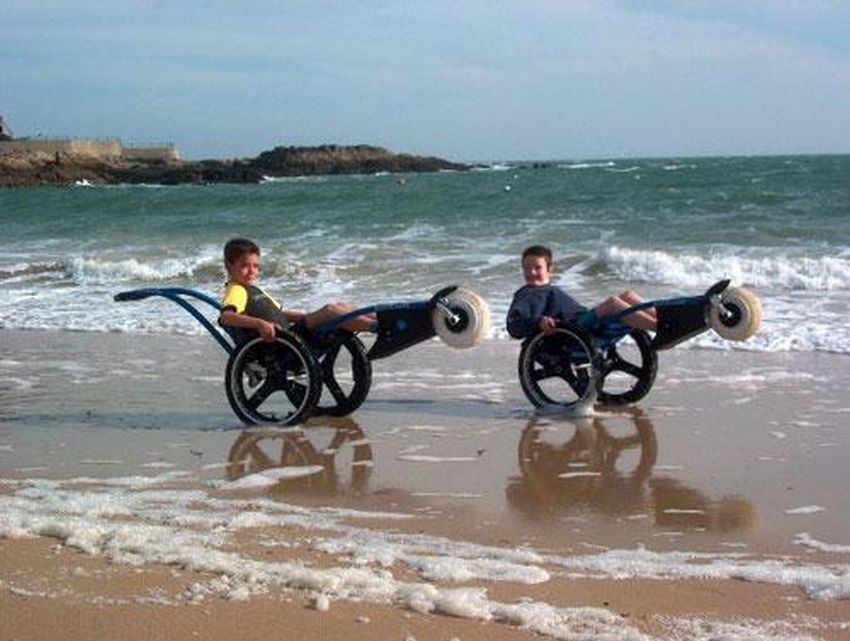 The Hippocampe beach wheelchair is lightweight, collapsible, and non-bulky. This beach wheelchair was designed to meet the needs of both energetic and calm clients. It features a low seat which makes it easy for kits users to move from a wheelchair to the ground and back to the wheelchair without putting in so much effort.
As an owner of this wheelchair, you do not have to worry about its parts getting rusted as its components are resistant to both water and sand. That's not all, when making use of this wheelchair, you do not have to worry about the intensity of the sun as its aluminum tubes are sleeved.
To get this beach wheelchair, all you need to do is part with $3166. After getting this wheelchair, if you do not obtain satisfaction after a period of 30 days, you can return it and get a refund. It is important to note that while returning this wheelchair, it will need to be returned in the condition it was purchased. All paperwork, accessories, and boxes have to be returned just like they were purchased.
Mobi-Chair Floating Wheelchair

Swimming at the beach might only be possible for people that have all their limbs functional. This, however, does not mean that people that need wheelchairs to move around cannot move in the water. Although this sounds a little impossible, with the existence of the Mobi-Chair Floating wheelchair, it is possible for people that need wheelchairs to move around to have fun while floating on the water at the beach.
The Mobi-Chair floating wheelchair features rubber pneumatic tires and can be purchased for $2299. The fact that this wheelchair can be used to float on water does not imply that it can't be used to move around on the beach.
This wheelchair is made from stainless steel and aluminum. Also, it does not get corroded because of regular contact with saltwater. Although the Mobi-Chair floating wheelchair was designed to be used at the beach, there is really no limitation to how it can be used. Even if you have no business going to the beach, you can use this beach wheelchair to float in swimming pools.