With each passing day, a new sport is blooming and taking everyone by storm, and Alpaca walking is one of them. But why has it become so popular kind of activity? There is no clear answer to that, but all we can say is that it is a lifetime experience and will help you explore the place in a new way.
You will discover quite a few new places with the alpacas, and if you have a soft spot in your heart for animals, you will enjoy their company. These adorable animals have a great history with their ancestry coming to America.
Befriending these creatures and waking beside them in the countryside will take you back in time. If you are a history enthusiast, this activity will snatch your heart. Keep on reading this article to know why Alpaca walking is the talk of the town and on the verge of becoming trending.
Explore The Beauty Of Nature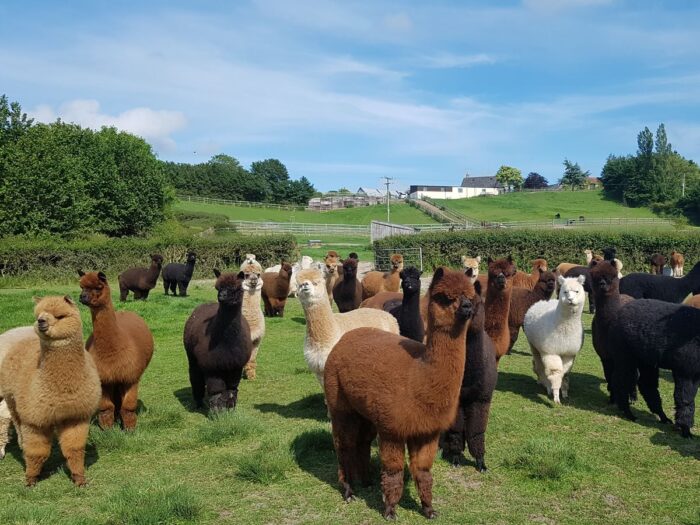 Along with you and the Alpaca, there will be a host who will organize the whole walking session for you. Exploring the beauty of a place with the Alpacas by your side can be quite an experience. You will feel like somebody from the past, exploring new horizons.
Walking through the magical fields and hiking with alpacas in the untouched beauty of nature will create a memory that you will cherish forever.
Awe Your Children
If you are the parent to the most beautiful kid/kids in the universe, what is stopping you from taking them out on an Alpaca walk? Also, if you want to bet the best parents in the world, Alpacas can help.
Children are curious by nature, and they have a connection with animals that is pure and serene. The minds of the children are not burdened with the complexity of the world, and the same is the case with animals. Thus, the boding these two develop is angelic.
A whole day of spending time with the Alpacas might make your childer not leave the place or visit again soon. This experience will not only be fun and joyful, but also, your kids will gather a lot of knowledge about the ways these animals live.
Disclaimer: Children below ten might not be allowed for an Alpaca walk.
Romantic Roundevorous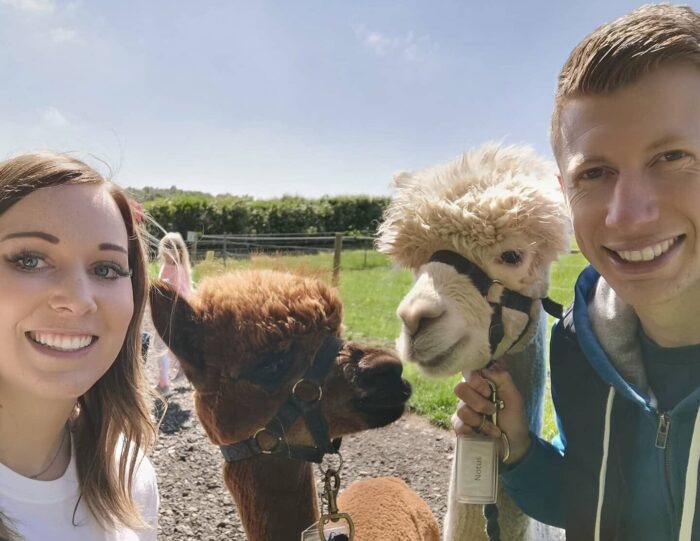 The Alpaca farms offer special Alpaca couple tours. You can plan your Christmas, New Year or Valentine's day with the Alpacas. Snuggle, click photos, pose and even practice yoga with the Alpaca. Yes, you read that right! There are Alpaca farms that allow you to have yoga sessions with these animals.
If you have had the privilege to be with your loved ones for a long time, it is likely that you have experienced quite a few activities together. Like, paragliding, snorkeling, deep-water diving and whatnot! But if you haven't walked with the Alpacas yet, what are you waiting for? This experience will be one of a kind.
Disclaimer: You might want to get an Alpaca for yourself after the walk (wink wink!)
Is Alpaca Walking An Ethical Sport?
Well! There is nothing ethical or unethical about walking the Alpacas. These animals are given food, water, and shelter. They are taken care of properly with routine checkups from veterinarians. There are no signs that they are ill-treated or harassed in any way.
Furthermore, unlike came riding, emu riding, etc., you will not be allowed to ride Alpacas. Their backs are not as strong as camel or emu, and also due to their nervous disposition.
However, if you see that the animals are being abused or harassed, feel free to contact the authority and take necessary steps against the people giving them a hard time.
The Nature Of The Alpacas
The Alpacas are a sweet thing. They are timid, shy and friendly. As they were the subject of prey when you walk, they will talk behind you. Just in case something attacks, you will be the one to confront them while they will get time to escape!
These furry animals have eyes on the side of the head, which makes them, see if any animal is approaching them. They are conscious of their surroundings and do not like it if something happens out of the blue. When you are trying to befriend an Alpaca, do not pet them on the head. They might not like that.
We would like to suggest that when you are in the company of an Alpaca, avoid eye contact. It might make them feel challenged. It's not like they will attack you if they are challenged, but they might rather pee their furs!
Try not to act too excited and short in front of them, as they are docile and can end up being afraid.
Safety With Fun Will Make The Experience Unforgettable
Knowing about basic safety rules will help you to stay at ease with these animals. Though it is nothing like they are dangerous, you do not want any unpleasant situation or see their tantrums while you are on the walk. Try to:
Stay informed of them; as discussed earlier, they like to stay behind you. Staying at the back might get you kicked as they are very conscious and afraid of the unknown.
Shout in front of them. Owing to their timid personality, they will become afraid if you shout in front of them.
Obey your host as they are habituated in dealing with the Alpacasan and are aware of their activities.
Conclusion
Walking with the Alpacas brings you closer to nature. If you are a vivid observer, you will feel deeply connected with them. It will be a fun time to spend with your friends, family, kids or loved ones. You might make a long-distance best friend with the Alpacas that will bring you to them whenever you get a chance. Though it has not become a very famous activity, but this undiscovered gem is worth a try. Embarrassed yourself to have the one-of-a-kind experience. Happy Alpacing!